Written by: Sara Irick, PE, PMP, Project Manager, Grant Integrative Facilities Management; and Andrew Cushman, Chief Marketing Officer, Grant Integrative Facilities Management
As the competition to attract students escalates to unseen heights, institutions of higher learning are going to great lengths to increase enrollment. At Lehigh University, a private school of 7,000 students situated in the historic Pennsylvania community of Bethlehem, the latest enticement is called SouthSide Commons.
The $48 million, 5­story residence hall features studio, 2­, 3­, and 4­bedroom
suite-­style apartments, academic success rooms, and common relaxation and recreation areas, featuring pool, shuffleboard, and ping-pong tables, giant Jenga games, and flat­screen televisions, among other accoutrements.
"It is certainly the nicest dormitory I have ever seen," said Sara Irick, PE, PMP, who served as Project Manager for Grant Integrative Facilities Management's (Grant) contract representing Lehigh University during the design and construction of the landmark facility. "It checks all the standard boxes, and does so with luxury, convenience, a sense of community, and an eye towards celebrating the University's legacy and advancing the mission moving forward."
Additional state­-of-­the-­art amenities offered include a decked-­out strength and cardio wellness center; three courtyards, including a recreation, firepit, and grilling area; a relaxation garden; and inside storage for bicycles. The facility is also pet friendly. All apartments feature washing machines and dryers, air conditioning, a shared living room area, full bathrooms, and kitchens with modern appliances. Other common conveniences, such as mail services, WiFi, cable, elevator access, and utilities, are included.
The building is co­-ed, secured with electronic keycard access, and features a dedicated parking lot for residents, which is another crucial differentiator on campus.
The dormitory was built as a Public­/Private Partnership between Lehigh University and Greystar, a real estate management and development company. Greystar's team featured Atkins, Olshin, Schade Architects, Kane Construction, and P. Agnes, which served as construction manager. Lehigh University hired Grant to provide Owner's Representative services. Grant, led by Irick as Project Manager, participated throughout the design by representing Lehigh's interests and supporting the project team during permitting, planning and zoning approval, and community outreach. In this role, Irick ensured all the needs and standards of the University were met relating to numerous departments, including Housing Services, Facilities, Police, Transportation, Parking, and IT, among others.
During construction, Grant attended all meetings to ensure the project was on schedule and constructed per University standards, while also ensuring
seamless coordination with the University's relevant departments.
Grant's responsibilities included coordinating with developer, engineer, architect, and land use attorney during the pre­-development/approvals phase to assist with the delivery of project. Other tasks included schedule management, plan review/comment, permit review, project cost estimate review, public meeting attendance, and upward reporting to the University's senior leadership, including the Vice President of Finance and Administration, Provost, and President.
During construction, Grant, on behalf of Lehigh, reviewed and commented on the critical path schedule, identified potential delays and/or change order requests, and monitored construction quality. Irick, a Lehigh alumna Class of 2007, said that without the core tenets of construction management, the project would not have met schedule, budget, or quality goals.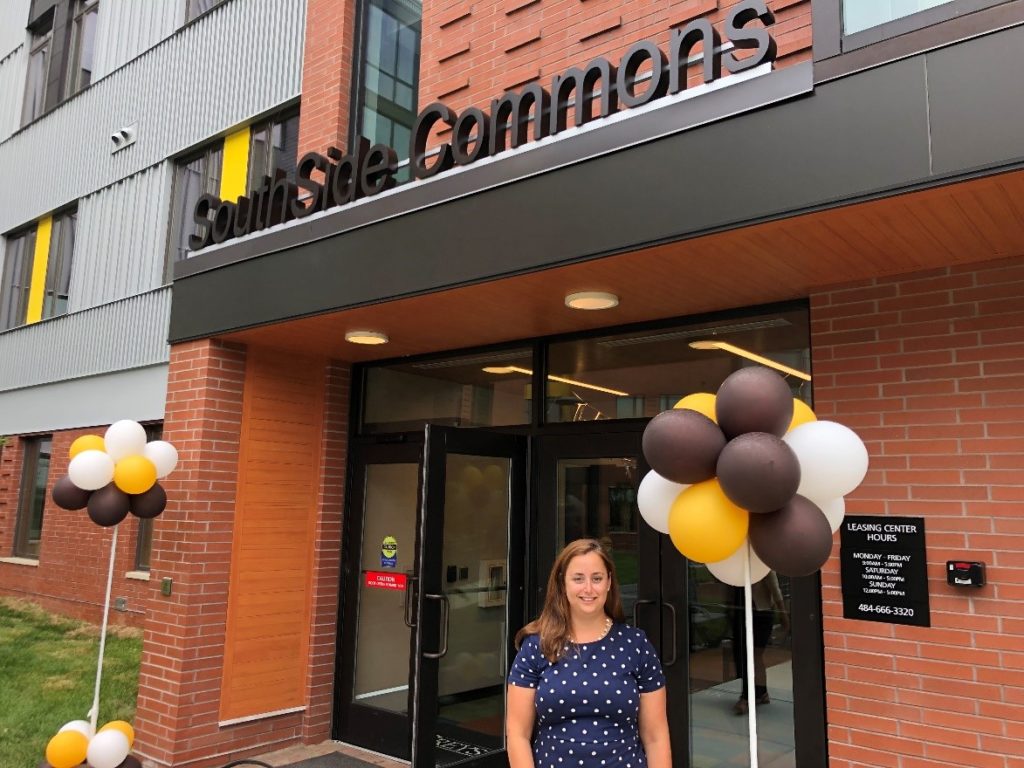 "From the beginning of this project, we identified communication and collaboration amongst all the key stakeholders as critical to success," Irick said. "By ensuring that each stakeholder felt their input was considered important and valuable, we created a sense of togetherness and buy-­in, which proved important as we were able to handle the challenges that arise with all projects that are on a fast-­tracked schedule.
"Establishing a sense of team from the outset led to improved efficiency when communicating project issues and developing solutions that were satisfactory to all stakeholders. This coordination and team atmosphere allowed the project to stay on schedule and budget as each stakeholder understood their respective importance to moving the project forward and not causing delays."
Irick added the proactive outreach extended beyond just the invested project team to include the City of Bethlehem, which the University and team knew would be an intricate part of the development. During the feasibility analysis for the project, the University's public relations team performed community outreach with surrounding neighbors and met with City officials to ensure the project met the goals of the University and City. As University President John Simon stated at the project's Groundbreaking event, "Let's face it, parking lots make lousy borders. Neighbors shouldn't be separated by large stretches of asphalt, and universities should not be separated from the community in which they reside by a large stretch of asphalt. SouthSide Commons will help change all that."
During construction, while site work was being performed, the building subcontractors constructed a mockup unit––built inside the University's former human resources office––a building that was later demolished to make room for the dormitory. "It isn't common for a contractor to have the ability to fully build out a mock-­up unit, but the effort was critical to ensuring the schedule later on in the project wouldn't be delayed by inspections."
The City inspections officials were on site daily to inspect and comment on the mockup unit, which ensured that when the site was ready to begin construction, the contractor would not be creating the same code violation in a unit 428 times. Ultimately the planning efforts during design to include the City resulted in quicker responses, easier communication, and far better coordination and collaboration. According to reports from the Brown and White, Lehigh's student newspaper, SouthSide Commons is already garnering kudos across campus.
One resident cited the convenience of having an on-­site gym while another student said having access to dishwashers, microwaves, and laundry machines in one building makes a difference every day. Other students celebrated the location to nearby stores and the sense of safety as the presence of exterior security cameras tied into the Lehigh University Police Department and electronic card access are welcomed security measures.
There have already been numerous events held in the courtyards, including barbeques, fire pit nights, and social mixers.
In a statement, University President Simon said, "SouthSide Commons is an important addition to the campus, enhancing the options available to students to have an enriching residential experience throughout their time at Lehigh."
It is also a significant milestone on the University's overall growth strategy known as "Path to Prominence," which expects to grow and evolve Lehigh into a more "impactful and innovative" University. This vision includes increasing the undergraduate population by approximately 20 percent
or 1,000 students during the next decade. SouthSide Commons was the first project to kick­off the "Path to Prominence" plan.
"SouthSide Commons is a landmark project for both students and the University as future generations of Mountain Hawks will live and prosper there," Irick said.
---
Written by: Sara Irick, PE, PMP, Project Manager, Grant Integrative Facilities Management; and Andrew Cushman, Chief Marketing Officer, Grant Integrative Facilities Management Grant Integrative Facilities Management provides high-quality building environments through a commitment to efficiency, safety, functionality, and reliability while reducing costs for the owner. As a full- service facility management firm, Grant specializes in Building Operations and Management, Maintenance and Custodial Services, and Professional Engineering and Construction Management. Healthcare, education, institution, and public sector clients trust Grant because we provide Subject Matter Experts to achieve the desired results on-­time, under­-budget, and with the utmost quality. Featuring a portfolio of thousands of assignments totaling tens of millions of dollars, Grant maintains more than 5 million square feet of facilities.