The Department of Defense, Philadelphia Division of the Naval Surface Warfare Center (NSWC,) again selected Grant Integrative Facilities Management (Grant) to provide coronavirus mitigation and elimination services at several facilities in the Philadelphia Navy Yard.
Grant will provide comprehensive temperature screening and ancillary coronavirus disinfecting services for at least six NSWC buildings.
"Earning the respect and trust of our clients is Priority No. 1 and being selected for repeat assignments is the surest confirmation of that success," said Jim N. Grant, owner and founder of Grant. "As the world continues fighting this pandemic, our firm takes great pride in providing the best solutions to ensure the health and safety of the men and women entering the facilities at the Navy Yard."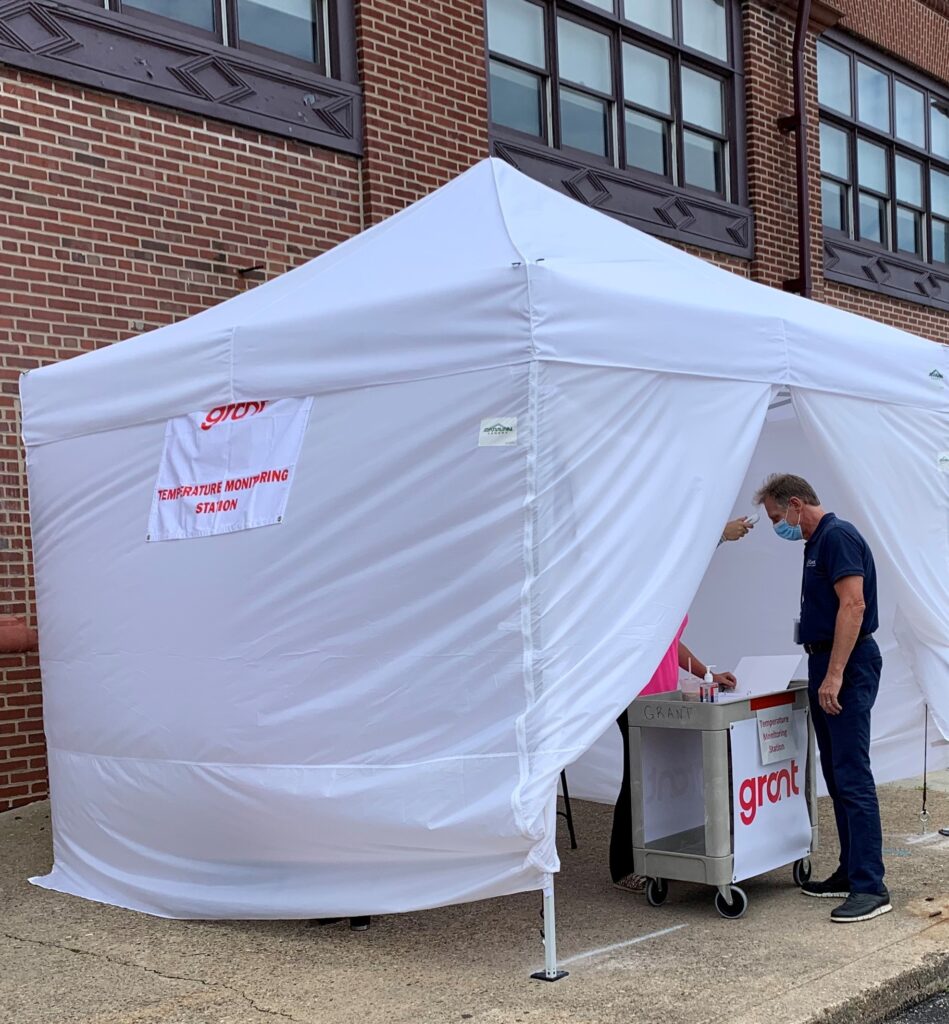 The NSWC is preventing the spread of coronavirus infections by monitoring all personnel entering its facilities do not have high temperatures, which is an indicative symptom of Covid-19. Grant has established designated enclosures to conduct state-of-the-art, contactless temperature-screening processes during weekday and weekend hours. In addition, Grant's professionals are providing CDC-certified cleaning and disinfection services. Grant is also providing the Navy with all the equipment, disinfecting chemicals, and personnel protective equipment (PPE) needed for this 7-days-a-week assignment.
"By having the PPE, equipment, and cleaning chemicals in house, we have been able to respond to numerous clients' needs immediately," Grant said. "Whether it's a mission-critical agency, like the Navy or a sewer authority, a private business looking to keep their employees safe, or an institution of learning providing safe learning spaces for its students, staff, and faculty, our firm has been able to tailor our services to deliver effective, efficient, and cost-conscious services, while also ensuring the virus is eliminated with a CDC-certified cleaning agent."
More Information on Grant Integrative Facilities Management's Coronavirus Expertise: Since the initial outbreak of the coronavirus last March, our firm has provided comprehensive response services at the Wells Fargo Center, home to the Philadelphia 76ers and Flyers, and for a dozen United States Navy facilities at the Philadelphia Navy Yard. In addition, we have served essential service providers like police departments, fire stations, and sewer authorities, which are providing mission-critical services. For the State of New Jersey, we provided cleaning services at the Joseph Kohn Center – a training facility for the visually impaired. For the Gloucester County Improvement Authority, we have been cleaning and maintaining Shady Lane Nursing Home, as well as the County's public parks. Our firm has also cleaned quasi-governmental agencies, such as Cooper's Ferry Partnership, as well as individual business locations, giving all our clients the ability to provide their employees and stakeholders with the assurance and comfort of knowing they have responded aggressively to this virus.